Pembroke Hospital is one of the locations in Vampyr. It's the first safe haven for Jonathan after he was turned into a Vampire. Dr Edgar Swansea is glad he met the renowned surgeon and blood specialist and offers Jonathan job and office in the Hospital, thus protecting him from the Vampire Hunters. The Poplar Sewers can be entered from here. A building belonging to the hospital is the Old Morgue, which is also must be visited by Jonathan during the game.
Characters
[
]
Hospital staff
---
Patients and visitors
Investigations
[
]
As one of the main locations, the Pembroke Hosptial also offers several investigations for Jonathan. There are seven investigations Jonathan can delve into:
Notes
[
]
In the first screenshots, the Hospital obviously was still named "Poplar Hospital". You can read more in this Wikipedia article about the real Poplar Hospital that opened 1855 in East India Dock Road in London. More information can be found on British History Online.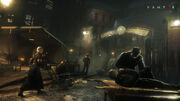 ---
Mr Renfield is a nod to the character from Bram Stoker's famous book "Dracula". In "Dracula" R. M. Renfield is a victim of Dracula and under the influence of the vampire.